Held on May 16 within the 26th European Biomass Conference and Exhibition 2018, the workshop discussed the needs and opportunities for research and innovation to meet the bioenergy targets for the next decade. 
Experts from the European Commission, research organizations, companies and associations shared their considerations about the EU policy framework and financing programmes for research and demonstration and, innovation trends  in the field of bioenergy.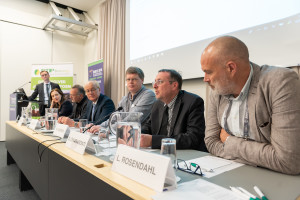 After the opening of the workshop by Patrik Klintbom -Chair of ETIP Bioenergy Platform-, Maria Georgiadou and Thomas Schleker from the European Commission DG RTD gave an overview about the opportunities and needs for research, development and innovation. The event was also an occasion to present the study "Research and Innovation perspective of the mid- and long-term potentials for advanced biofuels in Europe", financed by DG RTD and published in early 2018.
Birger Kerckow,  FNR – Fachagentur Nachwachsende Rohstoffe e. V., presented latest updates of the new Strategic Research and Innovation Agenda (SRIA) of Bioenergy which is currently under preparation. Wolter Elbersen,Wageningen UR, spoke about bio-commodities as key features of biomass production and biofuels consumption in the long-term, while Jeffrey Skeer from IRENA talked about the biofuels patent database which is being currently implemented by the international organization to monitor the innovation trends within biofuels global sector. Concerning the topic related to bioenergy research priorities and financing opportunities, Juan Carrasco of EERA European Energy Research Alliance, gave a speech about the Joint Research and Development Program (Bioenergy JP) as Kees Kwant of BESTF/ERA-Net Bioenergy described the ERA-NET Calls for projects and networks.
Finally, Rainer Janssen from WIP Renewable Energies and President of the Association of European Renewable Energy Research Agencies, provided some precious suggestions and interesting hints about next Framework Programme for research and innovation (FP9/Horizon Europe) before the Panel debate moderated by Antti Arasto – Vice Chair of ETIP Bioenergy Platform -.
For further information and slides see the full event report.