The new print issue of BE-Sustainable will be presented on the occasion of the 26th European Biomass Conference and Exhibition in Copenhagen.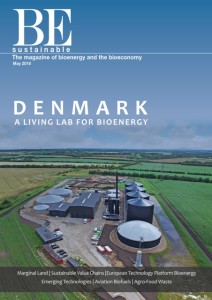 BE-Sustainable 2018 focuses on Denmark, a living lab of bioenergy which aims at phasing-out coal power plants completely by the end of 2023.
You may read a collection of "inspirations for innovation" of best practices in the field of advanced biofuels, non-food-competing biomasses aspiring to a sustainable growth and a transition to a low-carbon economy. From securing a stable supply of biomass resources in a sustainable and flexible manner, up to developing local value chains based on marginal lands exploitation and innovative cropping systems until ongoing projects addressing multiple technological challenges: these are the key aspects concerning the future of bioenergy which have been addressed in this print issue. From Brazil to China, from Mediterranean area to Northern Europe, there is the need to push bioenergy and 2nd generation biofuels development forward: ambitious targets, a stable policy (which may be fostered by the current EU Renewable Energy Directive which is under negotiation at present time) and R&I Investments are essential for the sector to deploy its full potential.
On BE-Sustainable 2018 you may find precious contributions from The Centre for Renewable Energy Sources and Saving – CRES, University of Thrace – DUTH (Greece), Chamber of Agriculture Lower Saxony, Brandenburg University of Technology – BTU, Fachagentur Nachwachsende Rohstoffe e. V. – FNR, SYNCOM R&D Consulting (Germany), ETA-Florence Renewable Energies, University of Bologna (Italy), Danish Bioenergy Association, State of Green, Samsø Municipality, Aarhus University (Denmark), Waldheim Consulting (Sweden), LNEG (Portugal), Bioenergy 2020+ (Austria), Aston University (UK), University College Dublin (Ireland) and, last but not least, IRENA and ETIP BIOENERGY.
You may also read the latest news about leading-edge initiatives funded by the European Union such as SEEMLA Project, BECOOL Project, AGROCYCLE Project, MAGIC Project, FlexJET Project, BIO4A project, BRISK2 and CopenHill plant in east Copenhagen.