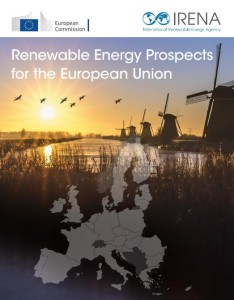 The International Renewable Energy Agency (IRENA), at the Commission's request, has recently carried out an assessment of the renewable energy prospects of the European Union to 2030 to support discussion on this proposal. The study, conducted in close collaboration with the Commission, also forms part of REmap – IRENAs' renewable energy roadmap. The resulting REmap EU study aims to identify cost-effective renewable energy options across all Member States, sectors, and technologies, in order to meet – and potentially exceed – the proposed 27% renewables target for 2030. IRENA's analysis, furthermore, aims to provide an open platform for EU Member States to assess at an aggregated level the impacts of their national renewable energy plans; to provide insights into the environmental and economic impacts of further deployment of renewables in the EU; and to further highlight the role that renewables could play in the long-term decarbonisation of the European energy system.
Adnan Z. Amin, Director-General IRENA, commented: "This report identifies cost-effective renewable energy options for all EU Member States – spanning a wide range of sectors and technologies – to accelerate the deployment of renewables towards 2030. The study also identifies areas where further action could be taken to unleash the full renewable energy potential identified". He continued: The REmap analysis concludes that the EU can double the renewable share in its energy mix from some 17% in 2015 to 34% in 2030 if the right enabling frameworks are put in place. The findings of the report show that this is possible with today's technologies and it makes strong economic sense. Reaching a 34% renewable share by 2030 will also help the EU reduce emissions and meet the objectives of the Paris Agreement. Furthermore, renewables present an opportunity for the EU and all its Member States, to boost economic growth, maintain industrial leadership and create jobs, while delivering substantial social and environmental benefits to European citizens".
Key findings:
The EU could double the renewable share in its energy mix, cost effectively, from 17% in 2015 to 34 % in 2030.
All EU countries have cost-effective potential to use more renewables. In 2015, the renewable energy shares in EU Member States varied from 5% to 54%. Variations will persist to 2030, reflecting multiple factors such as different starting points, available resource potentials, existing and planned policies, as well as the specific market conditions for renewables in each country; however, these differences may narrow by 2030 as Member States with lower initial shares have the potential to grow faster.
Renewables are vital for long-term decarbonisation of the EU energy system.
The European electricity sector can accommodate large shares of solar PV and wind power generation.
Heating and cooling solutions account for more than one third of the EU's untapped renewable energy potential. The share of renewables in heating and cooling could reach 34% by 2030. More than two-thirds of the additional renewable heating and cooling options identified are cheaper than the conventional alternative.
All renewable transport options are needed to realise long-term EU decarbonisation objectives. The quick adoption of electric vehicles will be key to accelerating renewable deployment by enabling the use of renewable electricity in road transport
Provided that sustainability concerns are considered, biomass will remain key for the energy transition until 2030 and beyond. This is especially the case for uses that are not easily converted to electricity or other carriers in the short and medium term (e.g. high temperature processes in industry, advanced biofuels for road freight, etc.). Overall deployment of bioenergy in the REmap scenario would double from today's levels; however, its share in the total consumption of renewables would decline from 67% in 2010 to 55% in 2030 as the growing contribution of other renewables outpaces bioenergy
 The REmap study by the International Renewable Energy Agency (IRENA) can be downloaded here.
For further information: https://irena.org/