DataBio is a Horizon 2020 Lighthouse project focusing on utilizing Big Data technologies (software components and datasets) to sustainably improve the productivity in bioeconomy.
Big data (very large data sets -multi-terabyte or larger- consisting of a wide range of data types -i. e. relational, text, multi-structured data, etc.- from numerous sources) and related technologies are the two main drivers in DataBio activities.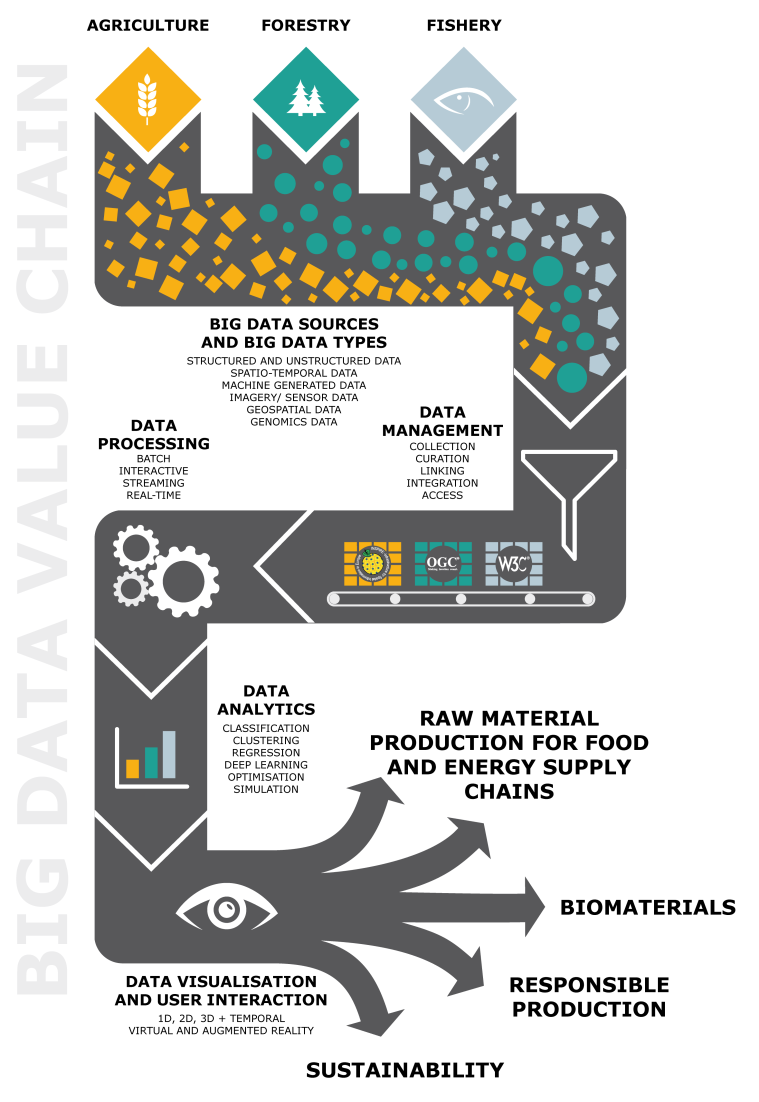 These activities are well poised to:
Build a versatile DataBio platform suitable for different industries and user profiles;

Ensure effective utilization of existing data set;

Ensure wide-spread use of the DataBio platform technologies in agriculture, forestry and fishery sectors;

Open the possibilities for European ICT industry including SMEs to participate actively on European and WorldWide Bioeconomy Big Data market;

Open the possibilities for European Earth Observation industry including SMEs offering their new Bioeconomy related services in Europe and World wide;

Ensure interoperability and easy setup of new multivendor applications utilizing Big DataBio platform.
DataBio activities
By collecting data from farm and forestry machinery, fishing vessels, remote and proximal sensors and imagery, DataBio projects provides a big data toolset to offer functionalities for services in the domains of agriculture, forestry and fishery:
Forestry: Big Data methods are expected to bring the possibility to both increase the value of the forests as well as to decrease the costs within sustainability limits set by natural growth and ecological aspects. The key technology is to gather more and more accurate information about the trees from a host of sensors including new generation of satellites, UAV images, laser scanning, mobile devices through crowdsourcing and machines operating in the forests.

Agriculture: Big Data in Agriculture is currently a hot topic. DataBio aims at building a European vision of Big Data for agriculture. This vision is to offer solution which will increase role of Big Data role in Agri Food chains in Europe: a perspective which prepared recommendation for future big data development in Europe.

Fisheries: the ambition of this project is to herald and promote the use of Big Data analytical tools within fisheries applications by initiating several pilots which will demonstrate benefits of using Big Data in an analytical way for the fisheries, such as improved analysis of operational data, tools for planning and operational choices, crowdsourcing methods for fish stock estimation.
These functionalities enable new software components to be easily and effectively combined with open source, standards-based big data, and proprietary components and infrastructures based on use of generic and domain specific components.
DataBio data platform and piloting trials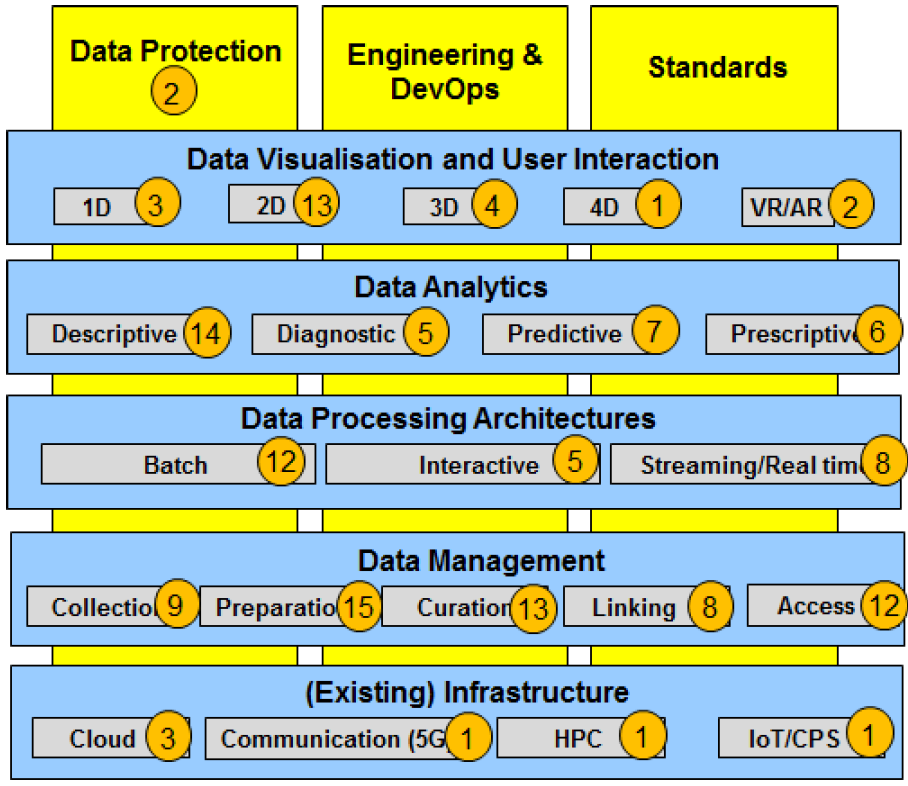 The DataBio toolset supports the forming of reusable and deployable pipelines of interoperable components (mostly provided by partners) thus extending the impact of DataBio to new bioeconomy projects as well as to other business areas. More than 90 state-of-the-art Big Data, Earth Observation and ICT technologies as well as partners' existing infrastructure and solutions are included in the DataBio platform. The  figure on the right shows the number of components at each reference model category. These components provide adequate functionalities and services at all these categories for the 26 piloting trials covering agriculture (13), forestry (7) and fishery (6) within DataBio.
The pilots demonstrate how Big Data technology improves production efficiency while increasing productivity of raw materials from the 3 sectors of interest, which in turn it improves quantitatively and qualitatively the output in terms of food, energy and biomaterials and income responsibly and sustainably. In the pilots also associated partners and other external stakeholders are actively involved. The selected pilots and concepts were transformed into pilot implementations using co-innovative approaches and tools. Iterative trialing phases will provide feedback to the ICT/ Big Data and Earth Observation technology experts, allowing them to improve their solutions. Based on the pilot results and the DataBio platform, new solutions and new business opportunities are expected to emerge.
DatBio training and communication activities
DataBio organizes a series of trainings and hackathons to support the take-up of its results and to enable developers outside the consortium to create new components and services based on and for the DataBio Platform.
Furthermore, DataBio aims to show the benefits of Big Data technologies in bioeconomy, through articulated and targeted dissemination activities (for more on dissemination materials and relevant tools, refer to www.databio.eu) and continuous cooperation between experts from end user and technology provider companies, bioeconomy and ICT-technology research institutes, and from the Big Data Value PPP programme stakeholders, and other partners.
About DataBio

This project has received funding from the European Union's Horizon 2020 research and innovation programme under grant agreement No 732064.  Budget accounts for: € 16,192,357.53.
For further information visit project website.
Text by Dr. Ephrem Habyarimana, Research Center for Cereal and Industrial Crops; ephrem.habyarimana@crea.gov.it