Inspiring Stories of Sustainable Innovations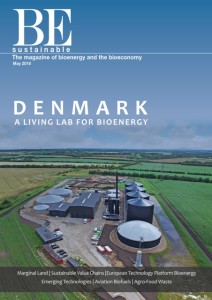 We are happy to present this new issue of BE-Sustainable at EUBCE 2018, once again in Copenhagen after five years since our last event in this city. The article on Denmark in this issue, is a collection of inspiring stories of innovation. This country always offers examples of how biomass resources in their variety can be used in relation to all energy uses, fostering the transition towards a low-carbon economy, while creating opportunities for sustainable growth. Today the Danish bioenergy sector encompasses 1,200 companies and employs 11,500 people, generating a turnover of EUR 3.3 billion, with a significant share of export. Bioenergy technologies are the second largest type of renewable energy exported by Denmark after wind power technologies. Thanks to a massive transition towards a wind-based power sector, together with a biomass-based CHP sector, the country aims at phasing-out coal power plants completely by 2023. While it is good as well as necessary that the scientific debate on the use of biomass resources for energy continues, international consensus is growing on the fact that sustainable bioenergy is an essential tool in the portfolio of the measures we need to achieve a low-carbon scenario.
Bioenergy must be absolutely sustainable, but it also needs to be deployed soon and at a quite large scale if we want this contribution to be delivered in a time frame compatible with the Paris climate agreements. Hopefully, the conclusion of the negotiations for the new EU Renewable Energy Directive, will create the conditions for European companies to make the new long-term investments necessary to achieve this, in Europe and globally. One of the key questions in bioenergy is always how to secure a stable supply of biomass resources sustainably. This is the reason why this issue of the magazine features an overview on initiatives and ongoing projects that are addressing this challenge under multiple perspectives: how we can use marginal lands for biomass, how we can adopt innovative cropping systems to grow both food and energy crops and how to use residues and wastes from agricultural and landscape management, for bioenergy but also for bio-products.
Another important priority is to develop more efficient and more feedstock-flexible processes, as sustainability can be achieved also through an industry capable of using different types of resources in an efficient way. In this regard, it is necessary to continue with the efforts in research and development of innovative processes and in the industrial demonstration of emerging technologies. The status of innovation and technology progress in biofuels and bioenergy, was also one of the topics discussed at the Stakeholder Plenary Meeting of the European Technology and Innovation Platform Bioenergy, recently held in Brussels, which we cover in this issue. Another debated topic is the cost-competitiveness of liquid biofuels with increasing electrification of transports and low oil prices; an article by IRENA analyses it under different scenarios.
We hope you will enjoy the magazine, and we invite you to share your stories with us.
• Marginal Lands for Growing Industrial Crops: Turning a Burden into an Opportunity
E. Alexopoulou, CRES, Greece
• The Potential of Marginal Lands for Bioenergy
W. Gerwin, F. Repmann, S. Galatsidas, N. Gounaris, D. Vlachaki, E. Dimitriadis,
V. Ivanina, C. Volkmann, W. Baumgarten, SEEMLA Project
• Developing Sustainable Value Chains for Advanced Biofuels
M. Cocchi, Andrea Monti
• Experience a Living Lab for Bioenergy Technology: Think Denmark
M. Marriner, M. Persson
• Innovative Double-loop Biogas Digestate Handling at Samsø
K.Tybirk,G. de Carvalho Quinta
• Setting a Higher Pace in the Implementation of Bioenergy
P.Klintbom
• ETIP Bioenergy Stakeholder Plenary Meeting
M. Cocchi
• Bioenergy and Biofuels – Innovation and Technology Progress
L. Waldheim, F. Girio
• Low TRL Biofuel Technologies
D. Bacovsky, A. Sonnleitner
• BIO4A: New H2020 Project on Sustainable Aviation Fuel in Europe Takes Off
D. Chiaramonti
• flexJET Project Converts Organic Waste into Sustainable Aviation Fuel
S. Capaccioli
• Prospects for Liquid Biofuels: Meeting the Challange of EVs and Low Oil Prices
J. Skeer, R. Leme, F. Boshell
• INSPIRE: Insights on Biofuels Innovation from IRENA's Patents Database
A. Salgado, F. Boshell, J. Skeer, R.Leme
• Recycling and Valorization of Agri-Food Waste
S. Ward
• Biomass from Landscape Conservation and Maintenance Work
A. Clalüna, C. Volkmann, S.Kühner
• BRISK2 : Building Biofuels Research
P. Try