EUBCE 2018 Closing – Friday, 18th May 2018 
Sustainable bioenergy is essential to achieve climate targets
Bioenergy and other low-carbon energy solutions are complementary 
A stable policy framework and good communication are necessary
The 26th European Biomass Conference and Exhibition (EUBCE 2018) ended on 17th June and confirmed once more its role of world leading platform for biomass science and industry. The event attracted 1375 participants from 65 countries, featured 811 presentations representing the work of more than 3000 authors and co-authors and fulfilled over 156 matchmaking requests. In addition to the scientific content, the EUBCE included an international Exhibition gathering companies from 14 countries and a technical tour to Nature Energy NGF Holsted Biogas Plant. 
This year EUBCE also had a remarkable social media coverage, with over 136,900 twitter impressions throughout the week.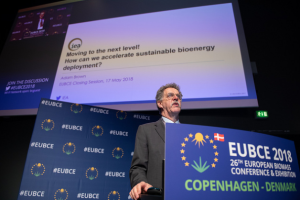 Sustainable bioenergy is essential to achieve a 2 degrees scenario but it is growing too slow, Adam Brown, IEA, Senior Energy Analyst, said speaking at the closing session. We have a portfolio of technologies that work and there is no shortage of biomass as feedstock at least for now, so biomass feedstock is not a barrier to progress, he added. Policy is key to deployment, now we have an up-to-date experience that should allow us to identify the best practice in policy making based on international experience. We need more engagement with development agencies and international funding institutions to build capacity and to internationalise the use of sustainable bioenergy.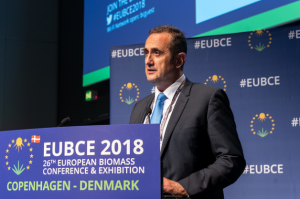 Good communication is essential, but it should be simple and understandable by everybody, said Nicolae Scarlat, Technical Programme Chairman, European Commission, Directorate for Energy, Transport and Climate. One important message that has recurred many times in this conference is that many technologies for advanced biofuels and bioenergy are ready, and many plants have reached technological maturity […].Despite this, emissions from the transport sector are rising, so we need all sustainable solutions, there is no competition but rather complementarity between bioenergy and other options to decarbonise the energy sector, he added. We also saw several times in the conference the evidence of Denmark as a world leader in bioenergy and its ambitions in biogas production, with its target to have 35% of green gas in the natural gas grid by 2035, although the current level of 10% is also remarkable.
It has been great to see old friends and to make new ones at this conference, this event showed that biomass and bioenergy research is vibrant, that there are challenges such as sustainability but also a lot of activity, said Michael Persson, Conference General Chairman, Danish Bioenergy Association, Head of Secretariat.He also announced that the next edition of EUBCE will be held in Portugal, an emerging market for bioenergy. As explained by Mario Guedes, Director General of Energy and Geology, DGEG, Portugal, during the opening ceremony, this country recently approved a national strategy for the promotion of biorefineries, highlighting the importance of biorefineries as new industrial value chains to generate qualified jobs and to enhance social cohesion, in particular in the less developed regions.
Further information: www.eubce.com; pressoffice@etaflorence.it