The EUBCE Student Awards are delivered in recognition of the most remarkable and outstanding research work in the field of Biomass to encourage high-quality work among young researchers. 
As for the past edition of EUBCE, with regard to the next EUBCE 2019 in Lisbon young researchers may apply to Students Awards Prizes 2019 and they can submit their papers in application to the Calls for Papers 2019 as well. 
Within every European Biomass Conference and Exhibition (EUBCE) prizes are chosen by a special scientific committee and awarded during the Closing Session. 
Here some words by Jean François Dallemand, from the EC Joint Research Centre Institute for Energy -Renewable Energy Unit-, as EUBCE Students Awards 2018 Coordinator.
As BE-Sustainable Magazine we asked some Students Awards winners of the 26th EUBCE about their research work, as well as some good advice in order to give a good presentation.
Rasmus Bramstoft – Technical University of Denmark, DTU Management Engineering – presented a research about integrated energy systems envisaging biomass resources.
My field of research is about modelling of integrated energy systems i.e. power, heat, gas, and transport. The research which I presented at the EUBCE 2018 addresses the arising question of the future role of biomass in an effective, cost-efficient, and sustainable transition of the Danish energy system. A novel modelling framework was developed, by combining a holistic energy system perspective with detailed modelling of bioenergy resources. The results from the model represent the socio-economic optimal systems, where investments and operations optimisation are facilitated while taking into account the spatial and temporal energy system integration. Such results may provide remarkable contributions to the related research field and can be used to support stakeholders and policymakers in strategic decision making.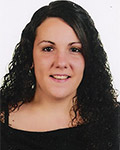 Maria de la Cruz Amorós Serrano – University of Alcalá de Henares, IMIDRA, Spain – talked about environmental issues of Elm energy crop.
I would like to take this opportunity to thank all the staff who made it possible that these trials came out ahead.  My research work is related to the generation of plants for sustainable gardening and non-agricultural food crop species. I am currently preparing my Phd thesis about biomass production and the environmental effects of Elm energy crop within IMIDRA (Instituto Madrileño de Investigación y Desarrollo Rural, Agrario y Alimentario). As Ulmus pumila is a woody plant that has been generally used as short rotation energy crop, I am studying the implantation of phenotypically-selected material. Within other studies, the vegetative material which has been used for the establishment of energy crops of Elm has consisted in plant growing up by seeds. Such vegetative material is a very heterogeneous crop, thus, it is necessary to study its vegetative propagation and its subsequent behaviour in the implantation.
Clement Vanneste-Ibarcq – CEA, Liten – Bioresources preparation laboratory, FRANCE – addressed the biomass powder flow issues in the context of gasification process.
I am working in the French Atomic Energy and Alternative Energy Commission (CEA Grenoble), a public research centre. My research focuses on the flow of biomass powders in the context of the gasification process within entrained flow reactor. This process requires the biomass to be finely ground, but biomass powders present a very low flowability, leading to flow issues (arching in silos for example). The aim of this research is to propose a new granulation method to improve the flowability of these powders, which could lead to the development of entrained flow gasification at a larger scale. It was a demonstration of the technical feasibility of this new granulation method, at both lab and pilot scale. The next step will be to demonstrate the economic interest of such method, compared with other flow-improvement methods, such as torrefaction, so that results may help the industry to solve biomass powder flow issues.
Asked with the question "what would you recommend for a good presentation?", each of them provided with some personal and valuable hint.
Maria de la Cruz Amorós Serrano underlined the feelings of passion and motivation by stating that, for a good research presentation is necessary above all that you like what you are doing and a lot of effort to do it the best possible.
Rasmus Bramstoft highlighted the necessity of identifying oneself with the audience in order to better convey the message: It was important for me to make a presentation, which made the complicated and comprehensive research easily understandable with clear key messages, such as, biomass plays a key role in future Danish energy systems, where the finite biomass resource, in particular, is needed to decarbonise the transportation sector.
The need for sympathizing with the public is pointed out by Clement Vanneste-Ibarcq too, as he affirms the necessity of putting oneself in the position of the audience: Will the listeners understand the subject, even as non-specialists of the domain? Asking this question often leads to clear and pleasant presentations."