The Horizon 2020 EUCALIVA aims at developing a fully-integrated, energy-efficient, scalable, innovative processing chain based on the valorisation of Lignin from paper industry. The aim is to produce Carbon fibres and other carbon-based materials, mainly for functional applications.
The use of waste components from industrial activities as raw materials to obtain high value-added products is worth being investigated as a sustainable process. Lignin obtained from pulping processes is present all over Europe and represents a big source of underexploited material.
As bio-based technologies are less competitive than other industrial (far more polluting) sources, there is the need to further develop and optimize cost-effective and resource-efficient innovative processes. For this reason, key players, with clear focus on industrial solutions, are working together to validate scaling-up solutions to convert waste components from paper industry into innovative value-added products, targeting specific niche markets applications like stretchable electronics.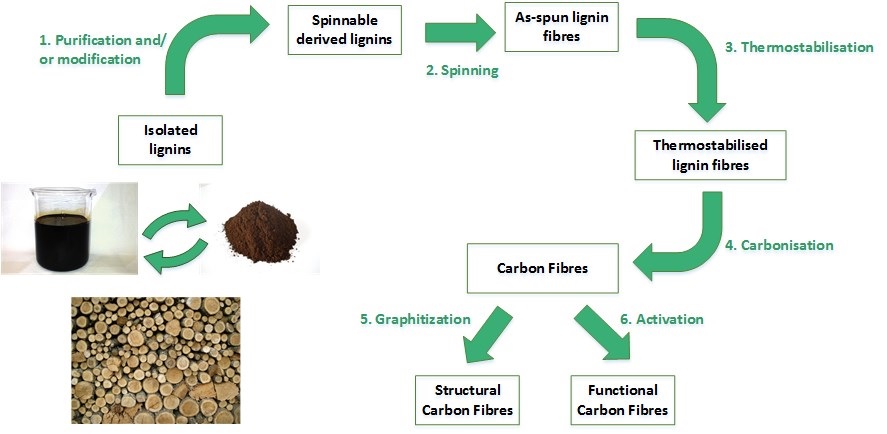 EUCALIVA (EUCAlyptus LIgnin VAlorisation for Advanced Materials and Carbon Fibres) aspires to create a valorisation chain of the lignin fraction, using Eucalyptus globulus waste as a source. By creating an "Industrial success case", the novel integral solution developed within the project with the aim of fully valorizing bio-resources at local level will be then replicated at local/national level by other industrial partners interested in the technology and/or the end products.
EUCALIVA is therefore a research project based on extracting high-purity soluble Lignin from chemical wood pulping processes (black liquors from Kraft pulping) to convert it into fibres and other forms through different valorisation routes. In the end, it will be possible to achieve a cost-efficient alternative to today's petroleum-based carbon raw materials.
New applications will be reached: multifunctional film-like conductives, piezo-resistive and piezoelectric materials (e.g., for biosensors, flexible electrodes, stretchable electronics, etc.), smart fabrics and functional fibres, as well as applications based on fibrous mats, non-woven fabrics and their carbonized derivatives (carbon-activated products).
Furthermore, along with demonstrating the viability of the processing of Lignin into Carbon fibres and other carbon-based materials, the aim of the project is to create new business opportunities and jobs in the pulp and paper industry. In the end, Life Cycle and Cost Analyses will be performed to assess the economic, environmental and social sustainability of the developed products and the related processing routes as well as to identify a strategy for market replication.
The expected results can be summarized as follows:
-the reduction of industrial side-streams routed to disposal as waste, demonstrable operational and energy cost savings;
-the introduction of "Lignin-to-(bio)-product" concepts at a semi-commercial scale;
-the delivery of anew validated building block based on biomass of European origin.
About EUCALIVA
EUCALIVA was selected among different proposals in the EU funded H2020 BBI JTI 2016 call for projects on "Valorisation of lignin and other side-streams to increase efficiency of biorefineries and increase sustainability of the whole value chain". This project has a duration of 42 months and it received funding from the Bio Based Industries Joint Undertaking under the European Union's Horizon 2020 research and innovation programme. The consortium is composed by six partners from four different countries. Among them, four partners are SMEs (Small and medium-sized enterprises): Contactica S.L. (project coordinator) (Spain), Envirohemp S.L. (Spain), Grado Zero Innovation S.r.l. (Italy), Biosensor S.r.l. (Italy); and two partners are RTD (Research and Innovation):  Sächsisches Textil Forschungs Institut e.V. (Germany) and Tampere University of Technology (TUT) (Finland).
For more information:  EUCALIVA Project Manager Nuria Valdés – nuria.valdes@contactica.es
Text provided by Nuria Valdés and Belen Arnaiz.