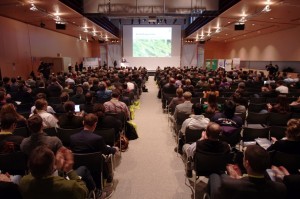 The 4th Central European Biomass Conference was held from 18 to 22 January in Graz, Austria, attracting 1.100 visitors from 45 countries. Besides showcasing the latest technological trends and innovations in the Austrian bioenergy sector, this event was an important opportunity to discuss about the relevant policy issues at international level as well as to remind to everyone, with up to date facts and figures, that the number one reason why we need an immediate and massive transition to renewable energy is climate change, which is happening here and now.
"A sustainable, safe, competitive and climate-friendly energy supply can only be guaranteed if the energy and climate policies of the European Union and its member states are focused on a 100% change to a high efficient and renewable energy system with ambitious long-term measures and a clear way to this aim", claimed Horst Jauschnegg, Chairman of the Austrian Biomass Association.
"Climate change is happening, the causation by human activities is apparent", said Univ.-Prof. Georg Kaser, climate scientist and co-author of the IPCC climate report. "The consequences are already visible as well as potential consequences to be are foreseeable: increase in global surface temperature, sea level rise, melting of ice masses, ocean acidification, reinforcement of the water cycle, shifting precipitation patterns, etc".
"It could cost as much as the First and Second World War together if humanity carries on with its current energy policy: we burn as much coal, gas and oil in a day as nature accumulated in a million days," said journalist and energy policy guru Franz Alt. "The future of renewable energy means innovation instead of depression. If the follow-up costs and high tax subsidies are compared to those in coal and nuclear power, energy from wind, water and biomass is already cheap," concluded Alt.
 The main highlights of the bioenergy sessions
Heating and cooling from biomass will continue to gain importance in the future, for this reasons the technological trend in research for small-scale biomass combustion is to develop systems with high efficiency and extremely low emissions.
Regarding emission reduction, the focus will be on new extremely low-dust small scale systems" (Prof. Univ.-Doz. Ingwald Obernberger, Graz University of Technology and director of BIOS Bioenergy Systems GmbH).
In medium and large scale systems the focus is on increasing efficiency and improving control of heat distribution (i.e. district heating networks, pantographs and heat recovery). Here is a huge potential for improvement in existing and new systems.
Processing and pre-treatment of biomass fuels plays an increasingly important role, as well as the need for their standardization and densification. The main technological developments and demonstration in this field are based on torrefaction processes, however activities in carbonization (charring) and liquefaction are also in progress.
Improving the fuel characteristics of herbaceous biomass with additives to increase fuel flexibility, and thus the usable fuel potential, is also a trend happening recently.
A trend towards micro combined heat and power biomass systems is also taking place, with several new technology developments in combustion and gasification.
In addition, the development and demonstration of technologies for the production of synthesis gas or fuels from solid biomass advances.
All slides from the conference are available for download  here.