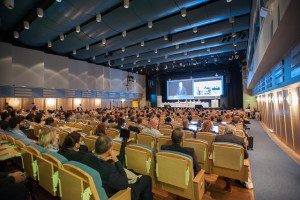 The 26th European Biomass Conference and Exhibition (EUBCE 2018) will take place from May 14th to May 18th, 2018 in Copenhagen, Denmark. Throughout the event, the Industry Sessions will gather the visual and oral presentation dealing with the industrial perspectives of biomass conversion, biomass value chain implementation and resources mobilization.
The first visual session will present examples of implementation of biorefineries: combustion, gasification, slow pyrolysis, waste-to-fuel and micro-scale CHP technologies, circulating fluidized bed boilers and other types of industrial processes will be featured.
After discussing policies for bio-based products and energy from different value chains, large attention will be paid on challenges concerning biorefineries' production of biofuels and biochemicals: how these by-products may generate new commercial opportunities for innovative bio-based products and systems.
A session will be dedicated to environmental impacts of biomass. Examples include LCA, ecosystem services, environmental impacts analysis and socio-economic aspects of biomass value chains.
An entire oral session is dedicated to industrial approaches to thermochemical conversion processes.
Another session will be dedicated to operating conditions and emissions from combustion in both large-scale plants and small-scale boilers.
Two sessions will be dedicated to the industrial implications of biomass mobilization. The first one will focus on new development in agricultural waste removal, trade models and market impacts, the second will introduce practical applications for measuring biomass quantity and quality for energy and materials.
Check out the Conference Programme and to find out more details on the Industry Sessions.
More information: www.eubce.com