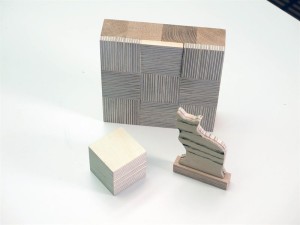 VTT Technical Research Centre of Finland has developed a technology to produce reactive lignin from pulp industry side streams, to be used as a replacement for toxic phenol compounds in wood adhesives. Traditionally phenol and formaldehyde containing adhesives are used in wood products such as plywood, laminated veneer lumber and laminates. There is a drive from society and wood product manufacturers to find bio-based and safe alternatives to these oil-based, toxic and expensive adhesive components.
VTT has developed CatLignin technology for producing reactive lignin from pulp industry side streams currently used for energy production. Due to its superior reactivity, CatLignin is an ideal replacement for phenol in phenol formaldehyde resins and could become a new, high-value product for pulp mills. In addition, the CO2 footprint of lignin is only approximately 20% of the footprint of phenol. Resins have a significant impact on CO2 footprint of engineered wood products. For example, in plywood around half of CO2 footprint is caused by resin usage. Replacing phenol with lignin also reduces formaldehyde usage. To put this in context there are currently six million tons of phenol formaldehyde resins produced annually.
The suitability of lignin for a variety of applications has been investigated for decades, but only now we have found a way to use it as a phenol substitute in significant quantities in resins. VTT's CatLignin technology represents a technological leap, offering new business opportunities to many industrial players, says Senior Scientist Hanne Wikberg. This new material brings new business opportunities for the entire value chain, from lignin producers to adhesive and wood product manufacturers and end-users. In practice, this means pulp mills, adhesive, wood product and laminate manufacturers and their customers, such as kitchen cabinet and furniture brands.
Text by VTT Technical Research Centre of Finland.