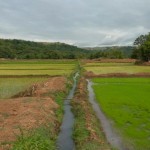 A group of eight German companies (Vastani GmbH, Eckrohrkessel GmbH, Envitec Biogas Ag, GTP Solutions GmBH, Binder GmbH, Ascentec GmbH, Novis GmbH and Pregobello GmbH) recently took part in a trade mission to the Philippines to assist the country in advancing its bioenergy sector, by providing technology solutions and sharing expertise. Representatives from the companies are currently in the country seeking to identify potential local partners and projects. They will also visit existing biomass and biogas projects in Southern Luzon region.
The Philippines has plentiful biomass feedstock including sugarcane bagasse, rice hulls and coconut husks.The country has recently began tapping renewable energy sources and bioenergy is seen as a viable alternative source of power in addition to solar and wind.
In 2008 the Department of Energy has enacted the Renewable Energy Act, which implemented a feed-in tariff scheme last July 2012. Biomass power generation is eligible for a feed-in-tariff of P6.63 ($0.16) per kilowatt hour.