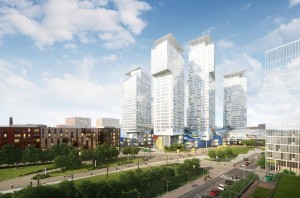 At SRV's REDI complex, Finland's largest urban construction project under way at Kalasatama, Helsinki, the worksite is being heated using clean, renewable Finnish biogas. The use of biogas in site heating is new in Finland, because the REDI site is the only one in Finland to use the biofuel. Biogas began to be used on the site at the beginning of this year. It is estimated that around 8,000 MWh per year of biogas will be required to heat the three hectare site area.
"Currently, heat produced with biogas is used in the area of the future parking facility on the basement level of the shopping centre. Ground-supported flooring is being built in the parking facility, and at this stage of the construction biogas-operated fans are blowing hot air, keeping the site warm," explains REDI Site Manager Jukka Nikkola.
The biogas is supplied to the site from Gasum's gas network, and it is a Finnish biofuel made completely from renewable raw materials. For SRV, too, this is the first time it has used biogas.
The REDI complex is Finland's largest on-going urban construction project. The total revenue of the shopping centre, parking facility and a total of eight towers is expected to exceed EUR 1 billion. The REDI shopping centre will open in Autumn 2018. The REDI towers will rise at Kalasatama in stages over the next ten years and the residents of the first residential tower, Majakka, are expected to move into the building at the end of 2018. REDI will be fully completed by 2023.
Further information:
Jukka Nikkola, Site Manager, REDI, SRV Construction Ltd, jukka.nikkola@srv.fi
Heli Pulkkinen, Communications Specialist, REDI project, SRV Construction Ltd, heli.pulkkinen@srv.fi
Text by SRV