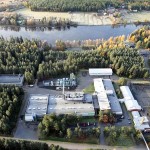 Chempolis Ltd, a Finland based biorefining technology corporation signed a Memorandum of Understanding with ONGC, India's leading oil & gas exploration company, for the development of a biorefinery project in India.
"India has huge biomass potential and after biofuel mandate by Indian government, the country is certainly taking steps to be at the forefront of biorefining. In addition, Indian companies already have a long tradition to utilize residual biomass from agriculture, especially combustion of sugarcane bagasse and production of electricity. The country also has existing production of bioethanol and related infrastructure. Indian agriculture produces huge volumes of residues that are largely not utilized" says Pasi Rousu, President, Asia-Pacific and Americas, Chempolis Ltd.
He further added, "In co-operation with ONGC, Chempolis would be looking forward to the establishment of biorefineries preferably in areas of Uttar Pradesh, Punjab, Haryana, Maharashtra, Karnataka and Gujarat. The company aims at delivering its technology in co-operation with leading Indian industry suppliers."
Chempolis' 3rd generation biorefining technology is based on selective fractionation of biomass into sugars and lignin for the sustainable co-production of ethanol and multiple products in a sustainable way.