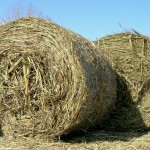 Chemtex International, Inc. and Murphy Brown LLC  signed today a long-term agreement for the supply of purpose grown energy crops and residues to be used as cellulosic feedstock in Project Alpha, Chemtex's Cellulosic Ethanol facility planned for Clinton, North Carolina.
The agreement covers a number of feedstocks to be grown on approximately six thousand acres of land owned or controlled by Murphy Brown. The proposed crops will be grown on acreage that is not typically used for grain production and will represent the backbone of the supply chain for the planned Chemtex biorefinery.
Don Butler, Vice President of Government Relations and Public Affairs with Murphy Brown commented "We are excited to be working with Chemtex to bring Cellulosic Ethanol to Eastern North Carolina. The production of these feedstocks will be a natural complement to livestock production in the state and will bring new opportunities for farmers large and small. This project will demonstrate to policymakers that their focus should be on encouraging these American-made next-generation biofuels that are produced without consuming foodstuffs."
Although the agreement represents a substantial portion of the feedstock required to operate the facility, additional acreage will be contracted in the coming months. "It's a privilege to be working with Murphy Brown and is representative of the support we have received in North Carolina. It's a great first step in filling out our supply needs and we are looking forward to contracting with additional farmers in the area", said Matt Harrod, Director of Supply Chain Development for Chemtex.
A significant part of the supply chain will be met through the use of new cellulosic ethanol feedstocks recently approved by the U.S. Environmental Protection Agency.
Project Alpha will produce twenty million gallons of environmentally friendlier cellulosic ethanol annually using Beta Renewables' market leading PROESA® Technology.  It is expected to create approximately 65 direct and at least 250 indirect jobs excluding those relating to the construction of the plant and is expected to be the foundation for the further expansion and development a significant "green" industry in North Carolina.