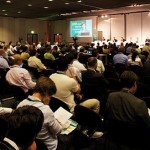 The 21st European Biomass Conference and Exhibition (EU BC&E) with the theme "Setting the Course for a Biobased Economy" will be held in Copenhagen June 3-7 2013. Recognized as the largest biomass conference in Europe, EU BC&E will cover a wide range of topics and present working solutions in areas of emerging science, technological development, and business and industry perspectives, in order to help set the right course for sustainable bioenergy development and a bio-based economy.
The target for EU member states to achieve 20% renewable energies by 2020 is a scant 7 years away, and it will fall on industry to increasingly adopt technology innovations to enable these targets to be met. More biomass will be needed, necessitating increased imports and streamlining of supply chains. Industry will need to expand in all areas, including biomass heat, bio-power, and biofuels. How will EU BC&E address industry issues?
Day 1 encompasses logistics for biomass mobilization, a key factor in ensuring cost competitiveness of biomass, and the status of emerging technologies such as bio-chemicals from lignocellulosic biomass. Presentations include; Key Issues for Torrefaction (Andritz), Wood Based Renewable Biodiesel (UPM), Precision Supply of Biomass to CHP and Bio-Oil Plants (Metla), and Bio-Jet Fuel Challenges (Greasoline GmbH).
While industry speakers are interspersed throughout the program, the afternoon of Day 2 features a new, concentrated industry event including presentations that will highlight several industry driven solutions for a variety of challenges, including;
Game Changers for Biomass Supply Chains– D. Bradley, President, Climate Change Solutions (Canada)
Large Scale Biomass Conversion Projects– N. Houbak, Ramboll Power (DK)
From Process Development to Full Scale Production, M. Åkerholm-Kaapro, Neste Jacobs (FI)
 Alternative and Sustainable fuel for Aviation– M. Porsgaard, SAS (DK)
Advantages of Drying Biomass– T. Hilstrøm, Haarslev Industries (DK)
High Efficiency Biomass Firing Power Plants, J. Diaz Pérz, SENER (ES)
100% Photoactive Photobioreactors,  M. Mohr, Ecoduna Produktions (AT)
In addition to industrial presentations, this event will include business focused presentations on:
Sustainability in Action – S. Haye, Roundtable on Sustainable Biomaterials (CH)
Mobilizing Political Support for a Bio-economy in Denmark and in the EU – A.G. Holmsgaard, BioRefining Alliance (DK)
Another new addition is that of industry pavilions. Canada brought trade missions to conferences in Singapore and Rotterdam, and also arranged Canada Pavilions that proved tremendously successful not only to convey information on Canadian technologies and investment opportunities, but also as networking centres.
A key focus will also be sustainability, encompassing harmonized certification schemes and monitoring compliance with sustainability rules in order to ensure the sustainable use of resources.
For biomass to play a major role in contributing to EU and Asian renewable energy targets, major increases in imports of biomass will be required. Major investments are needed in order to enable meaningful biomass trade.  A €250 million Bio-trade Equity Fund is now being developed that will provide a new investment vehicle to funnel funds to build biomass densification facilities and invest in associated supply chains worldwide. Initial investment target regions capable of supplying quantum increases in biomass at low risk are anticipated to be countries such as Canada, US, Australia, and New Zealand. The Fund will then begin investing in other areas with essentially "stranded" biomass, such as coastal Africa, the Caribbean, Argentina, Brazil, Malaysia and Indonesia.  Douglas Bradley will summarize aspects of the fund in his Supply Chain Game Changers presentation.
Written by Kendal Bradburn- Climate Change Solutions