IRENA's 5th report presents the status of the employment within renewable energy sector: jobs increased by 5.3% for a total of 10.3 million people employed worldwide in 2017. Solar photovoltaic and bioenergy industries hosted the strongest expansion.
Bioenergy is the second largest source of renewable energy jobs after Solar PV. In 2016, bioenergy-related jobs including biofuels, solid biomass and biogas, reached 3.05 million units globally and 660,000 units in the European Union only.
As Solar photovoltaic represents the largest employer while wind power and solar heating & cooling industries showed a slight decrease, in 2017 biofuels employment expanded by 12%, for a total of 1.93 million jobs mostly related to agricultural value chain (feedstock planting and harvesting). This increase is mainly due to the expansion of ethanol and biodiesel production  in Brazil, the United States, the European Union and Southeast Asian countries.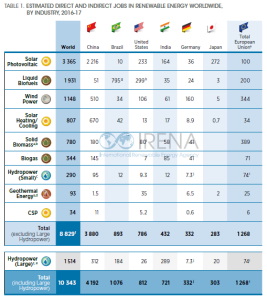 In 2016 in the European Union, the number of jobs related to renewable energy reached 1.19 million units, with solid biomass and wind power industries providing most of the jobs, about 389.000 – 344.000 respectively. Despite a growing policy support, about 50% of Europe's jobs in this sector are located in only 6 out of 28 Member States, i.e. Germany, France, Spain, Italy, Poland and Finland. EU biofuels sector employed about 200.000 people in 2016, up from 172.000 in 2015.
In Brazil total biofuel employment rose by 1% in 2017 up to 593.400 jobs in 2016, with a slight decline in ethanol employment and a little increase in biodiesel jobs (202.000 jobs in 2017). US ethanol production set a record thanks to 60 billion litres being produced in 2017, with 237.000 jobs accounted; biodiesel production rose slightly up to 6 billion litres with 62.000 jobs in the same year. In addition, the United States had a biomass power capacity of about 16 GW in 2016. UK provided about 10.000 jobs for solid biomass and biofuels in 2017; France instead, as the Europe's third-largest renewables employer, shows 107.000 jobs within the same sectors. Talking about Southeast Asian countries, Malaysia accounted for 30.000 jobs in biodiesel development: in the Philippines informal employment makes it difficult to estimate the numbers of biofuels employment. Mexico reported 14.400 jobs in solid biomass, while information of African countries is limited.
This text is based on IRENA's report Renewable Energy and Jobs – Annual Review 2018.
To read the full report, click here.