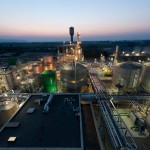 M&G Chemicals has announced today its decision to build a second generation biorefinery in the region of Fuyang, Anhui Province of China, for the production of bio-ethanol and bio-glycols.
The project is expected to be developed through a joint-venture with Chinese company Guozhen which will supply the plant with one million metric tons of straw biomass and will use the lignin by-product from the bio-refinery to feed a 45 MW cogeneration plant which will be co-located the bio-refinery site.
The bio-refinery will employ the PROESA technology licensed from Beta Renewables and will be approximately four times the size (measured by volume of biomass processed) of the plant recently inaugurated in Crescentino, Italy.  Enzymes will be supplied by Novozymes, which is also partner in Beta Renewables.
The plant, which is expected to require capital expenditures of approximately half a billion US dollars, is expected to be brought on stream in mid 2015.
"This is the first act of a green revolution that M&G Chemicals is bringing to the polyester chain to provide environmental sustainability to both PET beverage packaging and polyester textile" said Mr. Marco Ghisolfi, CEO of M&G Chemicals. "The timing and scope of our green polyester revolution and our manufacturing entry in China from the green PET raw materials avenue is even more relevant considering The Coca-Cola Company has announced plans to use PlantBottle™ packaging, which is partially made from plants, for all of their PET plastic bottles across the globe by 2020.", Marco Ghisolfi added.