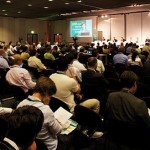 The detailed Conference Programme for the 21st European Biomass Conference and Exhibition, taking place from 3 to 7 June 2013 is now online.
 70 sessions that cover all aspects of biomass
 19 sessions on Research and Demonstration on Conversion Technologies for  Energy and Chemicals and 12 sessions on Biomass Resources
 270 plenary and oral presentations and more than 500 visual presentations
 5 Keynote Presentations, in which high ranking speakers from international research facilities and from the global biomass industry give an overview and outlook on the latest technologies and future challenges of biomass.
An oral session on the environmental impact of greenhouse gases from bioenergy systems has been structured with more time arranged for a depth discussion.
Following the review of 900 abstracts from 65 nations applying for presentation, the International Scientific Committee, made up of 140+ leading experts from the global biomass community, has composed the programme of this trend setting Biomass Conference.
Read the full program here
About the European BC&E
For over 30 years now, the European Biomass Conference and Exhibition (European BC&E) has combined a very renowned international Scientific Conference with an Industry Exhibition. The European BC&E is held at different venues throughout Europe and ranks on top of the world's leading events in the Biomass sector.
It provides an high-level scientific programme and parallel events which attract participants from a wide ranging background: Researchers, engineers, technologists, standards organisations, financing institutions and policy and decision makers.
Such a global exchange platform of current knowledge in turn attracts industrial exhibitors, making the conference events a significant tool for technology transfer and innovation.
This event is supported by European and international organizations such as the European Commission, UNESCO – United Nations Educational, Scientific and Cultural Organization, Natural Sciences Sector,  DEA Danish Energy Agency,   WCRE – the World Council for Renewable Energy, EUBIA – the European Biomass Industry Association,  Copenhagen Cleantech Cluster, Danish Bioenergy Industries Association, INBIOM Innovation Network Biomass, City of Copenhagen  and other organisations.
The Technical Programme is coordinated by the European Commission, Joint Research Centre.