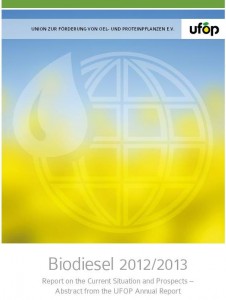 German UFOP (Union zur Förderung von Oel-und Proteinpflanzen) has republished the sections of its 2012/2013 annual report that dealt with biodiesel and biofuels as a separate publication entitled "Biodiesel & Co".
This special publication includes the sections on the market situation and outlook, the basic legal situation at national and international level, and a substantial statistical annex on biodiesel production and consumption, and on capacity development.
The publication also includes the report on the analysis of the raw material composition of biodiesel, about the (B7) blend, which was made available at public petrol stations in the summer of 2013.
The report is available here