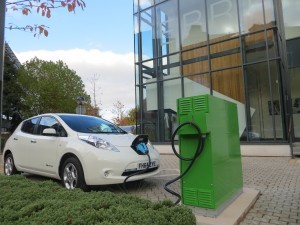 The European Bioenergy Research Institue (EBRI) has announced the successful commission of  UK's first electric vehicle to grid charging system.
This technology, which is being investigated as a new method for energy storage and grid balancing services in Europe, allows power to flow both in the traditional way (grid to vehicle) and in reverse (vehicle to grid).
V2G technology and more intelligent use of electric vehicle infrastructure can offer grid balancing services to the electricity system, temporarily acting as generators and reducing the demand side of the supply-demand balance.
This new combination of technology and service improves the sustainability and resilience of the energy system by reducing the need for stand-by generation from fossil fuels, unlocking greater deployment of non-dispatchable renewable generation and creating revenue for the electric vehicle (EV) charging system infrastructure owner.
Aston's research  is undertaken as part of the Itheca project, a £1.1m commercial R&D project, using the EBRI site to develop three new commercial offerings for the project industry partners with the support of InnovateUK. EBRI is working with Cenex Ltd on the delivery of the vehicle to grid system and on investigating the various business models associated with V2G and intelligent EV charging.
For further information: bioenergy@aston.ac.uk