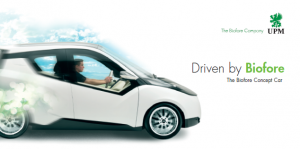 The Biofore Concept Car showcases the use of UPM's innovative biomaterials in the automotive industry. The majority of parts traditionally made from plastics are replaced with high quality, safe and durable biomaterials, UPM Formi and UPM Grada, which can significantly improve the overall environmental performance of car manufacturing. The Biofore Concept Car is designed and manufactured by students from the Helsinki Metropolia University of Applied Sciences.
Parts made of UPM Grada thermoformable wood material are the passenger compartment floor, centre console, display panel cover and door panels. Grada technology revitalises the forming of wood with heat and pressure, and opens up new opportunities for designs not achievable with traditional methods. UPM Grada's unique forming properties enable high quality ecological designs which are also visually appealing.
Parts made of UPM Formi biocomposite include front mask, side skirts, dashboard, door panels and interior panels. UPM Formi is a durable, high quality biocomposite for injection moulding, extrusion and thermoforming production. Consisting of renewable fibres and plastic, the material is non-toxic, odourless and uniform in quality. UPM Formi is ideal both for industrial and consumer applications. UPM's responsible supply chain combined with use of renewable raw materials ensure a small carbon footprint.
The vehicle runs on UPM's wood-based renewable diesel UPM BioVerno, which will significantly reduce greenhouse gas emissions compared to fossil fuels. UPM BioVerno is suitable for all diesel engines, including the 1.2 litre low-emission diesel engine featured in the Biofore Concept Car. Moreover, thanks to UPM's biomaterials, the car is approximately 150 kilogrammes lighter than its equivalents, resulting in lower fuel consumption.
UPM Raflatac's self-adhesive label materials are used to mark spare parts as well as in the interior and exterior design of the car. All labels used in the Biofore Concept Car have been manufactured using the latest adhesive technology and solvent-free production processes.
"Sustainability is a major subject globally. We were excited to be able to design and build a vehicle that would demonstrate that already today we have biomaterials that are a real alternative to traditional oil-based materials. During the past four years of building the Biofore Concept Car, our students have come to see that these biomaterials are of high quality, durable and also offer new design opportunities," says Pekka Hautala, Project Director from Metropolia.
"The Biofore Concept Car showcases the potential of UPM's biomaterials. Not only for the automotive industry, but also for various other end-uses including design, acoustics – a wide range of industrial and consumer applications. The possibilities are endless," says Elisa Nilsson, Vice President of Brand and Communications at UPM.
"According to our Biofore strategy, we create value from renewable raw material – wood from responsibly managed forests – and strive for a more resource efficient future. The Biofore Concept Car is a fine manifestation of this. We are proud of the cooperation with Metropolia's automotive engineering and industrial design students, and what we have achieved together," Nilsson concludes.